| | |
| --- | --- |
| | This page is outdated. Please add new information if you can. |
Pokemon Kids (ポケモンキッズ) are a line of Pokemon figures that began in 1996 in Japan by BANDAI and later followed with a release in Europe and Australia by the same company. They are hollow figures and are typically 1.5-2 inches in height. In countries other than Japan, Kids (usually sold as 'finger puppets') come in 6 packs, or 4 packs when the pack includes a DX Kid figure.
Clear Kids
Edit
In some sets of Pokemon Kids,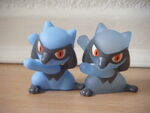 there is a chance (although small) that one may acquire a "clear" variation of a Kid, where the plastic of the figure is somewhat translucent.
Not all of the sets include clears however, and one way to find out whether or not they do is by looking for an announcement that appears on the box that the Kid was originally inside. Whether this announcement is within a bubble or is just highlighted text, the word クリア (clear) will be printed to indicate that clear variations are included in the set.
Original Series
Edit
The original series of Pokémon Kids is the staple of the line, and is still going to this day. Every known Pokémon has a Kid figure in this series to date, many with varied poses and alterations. Each Kid figure is boxed individually and has an image of the selected creature on the box. Along with each figure, a card of the same image and a small ramune candy are included.
Shiny Kid Figures
Edit
Shiny Kid figures are quite rare and are usually issued by the Daisuki Club as prizes. Because of this limited amount, they are often highly sought after and can sell for upwards of $50 a figure. While there have been Shiny figures for a number of years, it's only been recently with the Generation IV merchandise run that we've seen an increase in the amount of Shiny Kids.
Attack Kid Figures
Edit
Attack kids (キメわざポケモンキッズ
Kimewaza Kids
)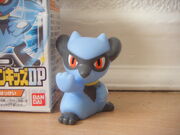 are a variation of kids figures. These figures are in obvious attack poses (e.g. Volt Tackle Pikachu, Ice Shard Mamoswine to name a few). Unlike regular kids, not every Pokémon has one, since the series began prodcution sometime during Generation 3. Attack kids come packaged with a card with attack art on it and a ramune candy tablet. Like the standard Kids series, there are some sets which have clear variations, but nowhere near as many as the standard sets.
Special Sets
Edit
Over the course of a few years, there have been some special sets released of the Kids. Instead of being individually packed, they are released in a box-set. These sets are usually only done as a Pokemon Movie Commemoration type-pack, and often feature Kids exclusive to the series along with reissues
Other Sets
Edit
Text goes here.
Original Set List
Edit
Note that some numbers may appear out of order. This isn't a mistake; due to Kids being released in movie sets and the like, numbers in the "main" sets may appear to be skipped.
Pokémon Kids 1
Edit
| Icon | # | Name | Clear |
| --- | --- | --- | --- |
| | #001 | Squirtle | Yes |
| | #002 | Charizard | Yes |
| | #003 | Bulbasaur | Yes |
| | #004 | Charmander | Yes |
| | #005 | Jigglypuff | Yes |
| | #006 | Pikachu | Yes |
| | #007 | Slowbro | Yes |
| | #008 | Mew | Yes |
| | #009 | Venusaur | Yes |
| | #010 | Blastoise | Yes |
| | #011 | Dragonite | Yes |
| | #012 | Raichu | Yes |
| | #013 | Kangaskhan | Yes |
| | #014 | Cubone | Yes |
| | #015 | Psyduck | Yes |
| | #016 | Poliwhirl | Yes |
| | #017 | Clefairy | Yes |
| | #018 | Mewtwo | Yes |
| | #019 | Sandshrew | Yes |
| | #020 | Nidoking | Yes |
| | #021 | Wartortle | Yes |
| | #022 | Voltorb | Yes |
| | #023 | Weepinbell | Yes |
| | #024 | Dratini | Yes |
| | #025 | Wigglytuff | Yes |
| | #026 | Porygon | Yes |
| | #027 | Vaporeon | Yes |
| | #028 | Raticate | Yes |
| | #029 | Omanyte | Yes |
| | #030 | Shellder | Yes |
| | #031 | Eevee | Yes |
| | #032 | Nidoqueen | Yes |
| | #033 | Rhyhorn | Yes |
| | #034 | Growlithe | Yes |
| | #035 | Oddish | Yes |
New Pokémon Kids 1
Edit
| Icon | # | Name | Clear |
| --- | --- | --- | --- |
| | #036 | Ivysaur | Yes |
| | #037 | Charmeleon | Yes |
| | #038 | Caterpie | Yes |
| | #039 | Nidoran | Yes |
| | #040 | Vulpix | Yes |
| | #041 | Diglett | Yes |
| | #042 | Abra | Yes |
| | #043 | Machop | Yes |
| | #044 | Farfetch'd | Yes |
| | #045 | Gengar | Yes |
| | #046 | Chansey | Yes |
| | #047 | Seaking | Yes |
| | #048 | Lapras | Yes |
| | #049 | Ditto | Yes |
| | #050 | Flareon | Yes |
Pokémon Kids 2
Edit
| Icon | # | Name | Clear |
| --- | --- | --- | --- |
| | #051 | Weedle | Yes |
| | #052 | Pidgeotto | Yes |
| | #053 | Arbok | Yes |
| | #054 | Nidorina | Yes |
| | #055 | Clefable | Yes |
| | #056 | Golbat | Yes |
| | #057 | Venonat | Yes |
| | #058 | Primeape | Yes |
| | #059 | Geodude | Yes |
| | #060 | Seel | Yes |
| | #061 | Grimer | Yes |
| | #062 | Drowzee | Yes |
| | #063 | Kingler | Yes |
| | #064 | Exeggcute | Yes |
| | #065 | Lickitung | Yes |
| | #066 | Horsea | Yes |
| | #067 | Jynx | Yes |
| | #068 | Electabuzz | Yes |
| | #069 | Kabuto | Yes |
| | #070 | Snorlax | Yes |
New Pokémon Kids 2
Edit
| Icon | # | Name | Clear |
| --- | --- | --- | --- |
| | #071 | Rhydon | Yes |
| | #072 | Ekans | Yes |
| | #073 | Onix | Yes |
| | #074 | Paras | Yes |
| | #075 | Poliwag | Yes |
| | #076 | Jolteon | Yes |
| | #077 | Nidorino | Yes |
| | #078 | Dragonair | Yes |
| | #079 | Dugtrio | Yes |
| | #080 | Vileplume | Yes |
| | #081 | Sandslash | Yes |
| | #082 | Diglett | Yes |
| | #083 | Slowpoke | Yes |
| | #084 | Electrode | Yes |
| | #085 | Tangela | Yes |
| | #086 | Metapod | Yes |
| | #087 | Butterfree | Yes |
| | #088 | Golduck | Yes |
Pokémon Kids 3
Edit
| Icon | # | Name | Clear |
| --- | --- | --- | --- |
| | #089 | Kadabra | Yes |
| | #090 | Rapidash | Yes |
| | #091 | Nidoran F | Yes |
| | #092 | Tauros | Yes |
| | #093 | Exeggutor | Yes |
| | #094 | Goldeen | Yes |
| | #095 | Rattata | Yes |
| | #096 | Poliwrath | Yes |
| | #097 | Zapdos | Yes |
| | #098 | Graveler | Yes |
| | #099 | Spearow | Yes |
| | #100 | Bellsprout | Yes |
| | #101 | Ninetales | Yes |
| | #102 | Magmar | Yes |
| | #103 | Magnemite | Yes |
| | #104 | Weezing | Yes |
New Pokémon Kids 3
Edit
| Icon | # | Name | Clear |
| --- | --- | --- | --- |
| | #105 | Victreebel | Yes |
| | #106 | Marowak | Yes |
| | #107 | Articuno | Yes |
| | #108 | Mankey | Yes |
| | #109 | Golem | Yes |
| | #110 | Starmie | Yes |
| | #111 | Persian | Yes |
| | #112 | Magikarp | Yes |
| | #113 | Pidgeot | Yes |
| | #114 | Pinsir | Yes |
| | #115 | Staryu | Yes |
| | #116 | Dewgong | Yes |
| | #117 | Gloom | Yes |
| | #118 | Machoke | Yes |
| | #119 | Hypno | Yes |
| | #120 | Krabby | Yes |
| | #121 | Arcanine | Yes |
| | #122 | Gastly | Yes |
| | #123 | Moltres | Yes |
| | #124 | Hitmonlee | Yes |
New Pokémon Kids 4
Edit
| Icon | # | Name | Clear |
| --- | --- | --- | --- |
| | #006 | Pikachu | Yes |
| | #125 | Kakuna | Yes |
| | #126 | Pidgey | Yes |
| | #127 | Zubat | Yes |
| | #128 | Venomoth | Yes |
| | #129 | Tentacool | Yes |
| | #130 | Magneton | Yes |
| | #131 | Doduo | Yes |
| | #132 | Muk | Yes |
| | #133 | Cloyster | Yes |
| | #134 | Hitmonchan | Yes |
| | #135 | Koffing | Yes |
| | #136 | Scyther | Yes |
| | #137 | Aerodactyl | Yes |
New Pokémon Kids 5
Edit
| Icon | # | Name | Clear |
| --- | --- | --- | --- |
| | #138 | Omastar | Yes |
| | #139 | Beedrill | Yes |
| | #140 | Fearow | Yes |
| | #141 | Parasect | Yes |
| | #142 | Alakazam | Yes |
| | #143 | Machamp | Yes |
| | #144 | Tentacruel | Yes |
| | #145 | Ponyta | Yes |
| | #146 | Dodrio | Yes |
| | #147 | Haunter | Yes |
| | #148 | Seadra | Yes |
| | #149 | Mr. Mime | Yes |
| | #150 | Kabutops | Yes |
| | #151 | Gyarados | Yes |
Pokémon Kids Series II 1
Edit
| Icon | # | Name | Clear |
| --- | --- | --- | --- |
| | #006 | Pikachu | Yes |
| | #152 | Marill | Yes |
| | #153 | Elekid | Yes |
| | #154 | Ledyba | Yes |
| | #155 | Bellossom | Yes |
| | #156 | Hoothoot | Yes |
| | #157 | Slowking | Yes |
Pokémon Kids Series II 2
Edit
| Icon | # | Name | Clear |
| --- | --- | --- | --- |
| | #158 | Cyndaquil | Yes |
| | #159 | Totodile | Yes |
| | #160 | Chikorita | Yes |
| | #161 | Heracross | Yes |
| | #162 | Spinarak | Yes |
| | #163 | Stantler | Yes |
| | #164 | Quagsire | Yes |
| | #165 | Sentret | Yes |
Pokémon Kids Series II 3
Edit
| Icon | # | Name | Clear |
| --- | --- | --- | --- |
| | #166 | Sunflora | Yes |
| | #167 | Gligar | Yes |
| | #168 | Smeargle | Yes |
| | #169 | Scizor | Yes |
| | #170 | Hoppip | Yes |
| | #171 | Blissey | Yes |
| | #172 | Mareep | Yes |
| | #173 | Murkrow | Yes |
New Pokémon Kids Series II 1
Edit
| Icon | # | Name | Clear |
| --- | --- | --- | --- |
| | #174 | Sudowoodo | Yes |
| | #175 | Wooper | Yes |
| | #176 | Espeon | Yes |
| | #177 | Aipom | Yes |
| | #178 | Hitmontop | Yes |
| | #179 | Pineco | Yes |
| | #180 | Donphan | Yes |
| | #181 | Steelix | Yes |
| | #182 | Pichu | Yes |
| | #183 | Sunkern | Yes |
| | #184 | Snubbull | Yes |
| | #185 | Miltank | Yes |
New Pokémon Kids Series II 2
Edit
| Icon | # | Name | Clear |
| --- | --- | --- | --- |
| | #186 | Ariados | Yes |
| | #187 | Unown | Yes |
| | #188 | Piloswine | Yes |
| | #189 | Entei | Yes |
| | #190 | Corsola | Yes |
| | #191 | Sneasel | Yes |
| | #192 | Politoed | Yes |
| | #193 | Natu | Yes |
| | #194 | Houndoom | Yes |
| | #195 | Slugma | Yes |
| | #196 | Larvitar | Yes |
| | #197 | Noctowl | Yes |
| | #198 | Ursaring | Yes |
New Pokémon Kids Series II 3
Edit
| Icon | # | Name | Clear |
| --- | --- | --- | --- |
| | #199 | Feraligatr | Yes |
| | #200 | Furret | Yes |
| | #201 | Octillery | Yes |
| | #202 | Crobat | Yes |
| | #203 | Wobbuffet | Yes |
| | #204 | Remoraid | Yes |
| | #205 | Ampharos | Yes |
| | #206 | Igglybuff | Yes |
| | #207 | Umbreon | Yes |
| | #208 | Quilava | Yes |
| | #209 | Misdreavus | Yes |
| | #210 | Yanma | Yes |
| | #211 | Raikou | Yes |
New Pokémon Kids Series II 4
Edit
| Icon | # | Name | Clear |
| --- | --- | --- | --- |
| | #212 | Croconaw | Yes |
| | #213 | Skarmory | Yes |
| | #214 | Pupitar | Yes |
| | #215 | Suicune | Yes |
| | #216 | Delibird | Yes |
| | #217 | Houndour | Yes |
| | #218 | Togetic | Yes |
| | #219 | Qwilfish | Yes |
| | #220 | Porygon2 | Yes |
| | #221 | Meganium | Yes |
| | #222 | Flaaffy | Yes |
| | #223 | Ledian | Yes |
| | #224 | Jumpluff | Yes |
New Pokémon Kids Series II 5
Edit
| Icon | # | Name | Clear |
| --- | --- | --- | --- |
| | #225 | Kingdra | Yes |
| | #226 | Granbull | Yes |
| | #227 | Xatu | Yes |
| | #228 | Dunsparce | Yes |
| | #229 | Typhlosion | Yes |
| | #230 | Tyranitar | Yes |
| | #231 | Teddiursa | Yes |
| | #232 | Forretress | Yes |
| | #233 | Bayleef | Yes |
| | #234 | Magcargo | Yes |
| | #235 | Azumarill | Yes |
| | #236 | Smoochum | Yes |
| | #237 | Lanturn | Yes |
| | #238 | Lugia | Yes |
New Pokémon Kids Series II 6
Edit
| Icon | # | Name | Clear |
| --- | --- | --- | --- |
| | #239 | Swinub | Yes |
| | #240 | Girafarig | Yes |
| | #241 | Phanpy | Yes |
| | #242 | Celebi | Yes |
| | #243 | Chinchou | Yes |
| | #244 | Shuckle | Yes |
| | #245 | Togepi | Yes |
| | #246 | Tyrogue | Yes |
| | #247 | Cleffa | Yes |
| | #248 | Magby | Yes |
| | #249 | Ho-Oh | Yes |
| | #250 | Skiploom | Yes |
| | #251 | Mantine | Yes |
Pokémon Kids Advance 1
Edit
| Icon | # | Name | Clear |
| --- | --- | --- | --- |
| | #006 | Pikachu | Yes |
| | #252 | Torchic | Yes |
| | #253 | Mudkip | Yes |
| | #254 | Treecko | Yes |
| | #255 | Volbeat | Yes |
| | #256 | Duskull | Yes |
| | #257 | Kecleon | Yes |
| | #258 | Wailmer | Yes |
| | #259 | Azurill | Yes |
| | #260 | Wynaut | Yes |
| | #261 | Latias | Yes |
Pokémon Kids Advance 2
Edit
| Icon | # | Name | Clear |
| --- | --- | --- | --- |
| | #262 | Beautifly | Yes |
| | #263 | Shroomish | Yes |
| | #264 | Whismur | Yes |
| | #265 | Seedot | Yes |
| | #266 | Cacnea | Yes |
| | #267 | Sharpedo | Yes |
| | #268 | Relicanth | Yes |
| | #269 | Zigzagoon | Yes |
| | #270 | Taillow | Yes |
| | #271 | Nincada | Yes |
| | #272 | Nosepass | Yes |
| | #273 | Blaziken | Yes |
| | #274 | Lotad | Yes |
| | #275 | Seviper | Yes |
| | #276 | Corphish | Yes |
| | #277 | Pelipper | Yes |
| | #278 | Poochyena | Yes |
| | #279 | Cascoon | Yes |
| | #280 | Vigoroth | Yes |
Pokémon Kids Advance 3
Edit
| Icon | # | Name | Clear |
| --- | --- | --- | --- |
| | #281 | Grovyle | Yes |
| | #282 | Wurmple | Yes |
| | #283 | Kirlia | Yes |
| | #284 | Surskit | Yes |
| | #285 | Slaking | Yes |
| | #286 | Skitty | Yes |
| | #287 | Illumise | Yes |
| | #288 | Wailord | Yes |
| | #289 | Flygon | Yes |
| | #290 | Dusclops | Yes |
| | #291 | Absol | Yes |
| | #292 | Groudon | Yes |
| | #293 | Jirachi | Yes |
Pokémon Kids Advance 4
Edit
| Icon | # | Name | Clear |
| --- | --- | --- | --- |
| | #294 | Latios | Yes |
| | #295 | Marshtomp | Yes |
| | #296 | Mightyena | Yes |
| | #297 | Silcoon | Yes |
| | #298 | Loudred | Yes |
| | #299 | Mawile | Yes |
| | #300 | Medicham | Yes |
| | #301 | Plusle | Yes |
| | #302 | Minun | Yes |
| | #303 | Gulpin | Yes |
| | #304 | Numel | Yes |
| | #305 | Crawdaunt | Yes |
| | #306 | Walrein | Yes |
Pokémon Kids Advance 5
Edit
| Icon | # | Name | Clear |
| --- | --- | --- | --- |
| | #307 | Combusken | Yes |
| | #308 | Linoone | Yes |
| | #309 | Dustox | Yes |
| | #310 | Shiftry | Yes |
| | #311 | Makuhita | Yes |
| | #312 | Sableye | Yes |
| | #313 | Aron | Yes |
| | #314 | Trapinch | Yes |
| | #315 | Altaria | Yes |
| | #316 | Lunatone | Yes |
| | #317 | Feebas | Yes |
| | #318 | Tropius | Yes |
| | #319 | Huntail | Yes |
| | #320 | Kyogre | Yes |
Pokémon Kids Advance 6
Edit
| Icon | # | Name | Clear |
| --- | --- | --- | --- |
| | #321 | Sceptile | Yes |
| | #322 | Wingull | Yes |
| | #323 | Slakoth | Yes |
| | #324 | Delcatty | Yes |
| | #325 | Roselia | Yes |
| | #326 | Spoink | Yes |
| | #327 | Spinda | Yes |
| | #327 | Spinda (Heart Spot) | Yes |
| | #328 | Vibrava | Yes |
| | #329 | Whiscash | Yes |
| | #330 | Milotic | Yes |
| | #331 | Castform | Yes |
| | #332 | Chimecho | Yes |
| | #333 | Beldum | Yes |
| | #334 | Registeel | Yes |
| | #335 | Deoxys | Yes |
Pokémon Kids Advance 7
Edit
| Icon | # | Name | Clear |
| --- | --- | --- | --- |
| | #331 | Castform (Hail) | Yes |
| | #336 | Metagross | Yes |
| | #339 | Swampert | Yes |
| | #340 | Ludicolo | Yes |
| | #341 | Swellow | Yes |
| | #342 | Gardevoir | Yes |
| | #343 | Breloom | Yes |
| | #344 | Lairon | Yes |
| | #345 | Meditite | Yes |
| | #346 | Camerupt | Yes |
| | #347 | Zangoose | Yes |
| | #348 | Claydol | Yes |
| | #349 | Glalie | Yes |
| | #350 | Regice | Yes |
Pokémon Kids Advance 8
Edit
| Icon | # | Name | Clear |
| --- | --- | --- | --- |
| | #331 | Castform (Rain) | Yes |
| | #335 | Deoxys | Yes |
| | #337 | Rayquaza | Yes |
| | #338 | Munchlax | Yes |
| | #351 | Lombre | Yes |
| | #352 | Ralts | Yes |
| | #353 | Ninjask | Yes |
| | #354 | Exploud | Yes |
| | #355 | Hariyama | Yes |
| | #356 | Manectric | Yes |
| | #357 | Torkoal | Yes |
| | #358 | Barboach | Yes |
| | #359 | Anorith | Yes |
| | #360 | Clamperl | Yes |
| | #361 | Bagon | Yes |
| | #362 | Regirock | Yes |
Pokémon Kids Advance 9
Edit
| Icon | # | Name | Clear |
| --- | --- | --- | --- |
| | #252 | Torchic | Yes |
| | #253 | Mudkip | Yes |
| | #254 | Treecko | Yes |
| | #331 | Castform (Sunny) | Yes |
| | #363 | Nuzleaf | Yes |
| | #364 | Masquerain | Yes |
| | #365 | Shedinja | Yes |
| | #366 | Grumpig | Yes |
| | #367 | Cacturne | Yes |
| | #368 | Sealeo | Yes |
| | #369 | Salamence | Yes |
| | #370 | Banette | Yes |
| | #371 | Snorunt | Yes |
| | #372 | Gorebyss | Yes |
| | #373 | Shelgon | Yes |
Pokémon Kids Advance 10
Edit
| Icon | # | Name | Clear |
| --- | --- | --- | --- |
| | #006 | Pikachu | Yes |
| | #374 | Aggron | Yes |
| | #375 | Electrike | Yes |
| | #376 | Swalot | Yes |
| | #377 | Carvanha | Yes |
| | #378 | Swablu | Yes |
| | #379 | Solrock | Yes |
| | #380 | Baltoy | Yes |
| | #381 | Crawdily | Yes |
| | #382 | Shuppet | Yes |
| | #383 | Lileep | Yes |
| | #384 | Spheal | Yes |
| | #385 | Luvdisc | Yes |
| | #386 | Armaldo | Yes |
| | #387 | Metang | Yes |
| | #388 | Lucario | Yes |
Pokémon Kids Diamond & Pearl
Edit
| Icon | # | Name | Clear |
| --- | --- | --- | --- |
| | #006 | Pikachu | Yes |
| | #012 | Raichu | Yes |
| | #047 | Seaking | Yes |
| | #088 | Golduck | Yes |
| | #109 | Golem | Yes |
| | #325 | Roselia | Yes |
| | #396 | Turtwig | Yes |
| | #397 | Piplup | Yes |
| | #398 | Chimchar | Yes |
| | #399 | Cherrim | Yes |
| | #400 | Electivire | Yes |
| | #401 | Roserade | Yes |
| | #402 | Bidoof | Yes |
| | #403 | Kricketot | Yes |
| | #404 | Starly | Yes |
Pokémon Kids Diamond & Pearl 2
Edit
| Icon | # | Name | Clear |
| --- | --- | --- | --- |
| | #411 | Prinplup | Yes |
| | #412 | Monferno | Yes |
| | #413 | Riolu | Yes |
| | #414 | Drapion | Yes |
| | #415 | Pachirisu | Yes |
| | #416 | Budew | Yes |
| | #417 | Croagunk | Yes |
| | #418 | Burmy (Grass Cloak) | Yes |
| | #419 | Shieldon | Yes |
| | #420 | Mismagius | Yes |
| | #421 | Spiritomb | Yes |
| | #422 | Luxio | Yes |
| | #423 | Kricketot | Yes |
| | #424 | Bibarel | Yes |
| | #425 | Chingling | Yes |
Pokémon Kids Diamond & Pearl 3
Edit
| Icon | # | Name | Clear |
| --- | --- | --- | --- |
| | #426 | Grotle | Yes |
| | #427 | Ambipom | Yes |
| | #428 | Shinx | Yes |
| | #429 | Carnivine | Yes |
| | #430 | Azelf | Yes |
| | #431 | Honchkrow | Yes |
| | #432 | Staravia | Yes |
| | #433 | Combee | Yes |
| | #434 | Drifblim | Yes |
| | #435 | Shellos (West Sea) | Yes |
| | #436 | Mothim | Yes |
| | #437 | Toxicroak | Yes |
| | #438 | Cranidos | Yes |
| | #439 | Phione | Yes |
| | #440 | Giratina (Altered Forme) | Yes |
Pokémon Kids Diamond & Pearl 4
Edit
| Icon | # | Name | Clear |
| --- | --- | --- | --- |
| | #390 | Bonsly | Yes |
| | #444 | Rhyperior | Yes |
| | #445 | Magmortar | Yes |
| | #446 | Lopunny | Yes |
| | #447 | Rampardos | Yes |
| | #448 | Wormadam (Grass) | Yes |
| | #449 | Luxray | Yes |
| | #450 | Darkrai | Yes |
| | #451 | Glameow | Yes |
| | #452 | Bronzor | Yes |
| | #453 | Vespiquen | Yes |
| | #454 | Skorupi | Yes |
| | #455 | Mesprit | Yes |
| | #456 | Gastrodon (West Sea) | Yes |
| | #457 | Stunky | Yes |
Pokémon Kids Diamond & Pearl 5
Edit
| Icon | # | Name | Clear |
| --- | --- | --- | --- |
| | #338 | Munchlax | Yes |
| | #407 | Buneary | Yes |
| | #408 | Cherubi | Yes |
| | #435 | Shellos (East Sea) | Yes |
| | #458 | Gallade | Yes |
| | #459 | Staraptor | Yes |
| | #460 | Heatran | Yes |
| | #461 | Bastiodon | Yes |
| | #462 | Togekiss | Yes |
| | #463 | Bronzong | Yes |
| | #464 | Purugly | Yes |
| | #465 | Uxie | Yes |
| | #466 | Snover | Yes |
| | #467 | Tangrowth | Yes |
| | #468 | Gible | Yes |
Pokémon Kids Diamond & Pearl 6
Edit
| Icon | # | Name | Clear |
| --- | --- | --- | --- |
| | #388 | Lucario | Yes |
| | #394 | Buizel | Yes |
| | #398 | Chimchar | Yes |
| | #405 | Dialga | Yes |
| | #441 | Empoleon | Yes |
| | #456 | Gastrodon (East Sea) | Yes |
| | #469 | Abomasnow | Yes |
| | #470 | Cresselia | Yes |
| | #471 | Glaceon | Yes |
| | #472 | Yanmega | Yes |
| | #473 | Skuntank | Yes |
| | #474 | Probopass | Yes |
| | #475 | Gabite | Yes |
| | #476 | Porygon-Z | Yes |
Pokémon Kids Diamond & Pearl 7
Edit
| Icon | # | Name | Clear |
| --- | --- | --- | --- |
| | #389 | Weavile | Yes |
| | #392 | Manaphy | Yes |
| | #393 | Mantyke | Yes |
| | #396 | Turtwig | Yes |
| | #406 | Happiny | Yes |
| | #410 | Palkia | Yes |
| | #443 | Infernape | Yes |
| | #477 | Lickilicky | Yes |
| | #478 | Hippopotas | Yes |
| | #479 | Gliscor | Yes |
| | #480 | Garchomp | Yes |
| | #481 | Froslass | Yes |
| | #482 | Lumineon | Yes |
| | #483 | Leafeon | Yes |
Pokémon Kids Diamond & Pearl 8
Edit
| Icon | # | Name | Clear |
| --- | --- | --- | --- |
| | #391 | Mime Jr. | Yes |
| | #395 | Chatot | Yes |
| | #408 | Drifloon | Yes |
| | #442 | Torterra | Yes |
| | #484 | Finneon | Yes |
| | #485 | Rotom | Yes |
| | #486 | Hippowdon | Yes |
| | #487 | Magnezone | Yes |
| | #488 | Floatzel | Yes |
| | #489 | Mamoswine | Yes |
| | #490 | Regigigas | Yes |
| | #491 | Dusknoir | Yes |
| | #492 | Shaymin (Land Forme) | Yes |
| | #492 | Shaymin (Sky Forme) | Yes |
Pokémon Kids DP National Pokédex
Edit
| Icon | # | Name | Clear |
| --- | --- | --- | --- |
| | #002 | Charizard | No |
| | #031 | Eevee | No |
| | #068 | Electabuzz | No |
| | #071 | Rhydon | No |
| | #102 | Magmar | No |
| | #212 | Croconaw | No |
| | #218 | Togetic | No |
| | #281 | Grovyle | No |
| | #290 | Dusclops | No |
| | #371 | Snorunt | No |
| | #415 | Pachirisu | No |
| | #439 | Phione | No |
| | #440 | Giratina (Origin Forme) | No |
| | #449 | Luxray | No |
| | #450 | Darkrai | No |
Pokémon Kids DP National Pokédex 2
Edit
| Icon | # | Name | Clear |
| --- | --- | --- | --- |
| | #009 | Venusaur | No |
| | #011 | Dragonite | No |
| | #050 | Flareon | No |
| | #196 | Larvitar | No |
| | #208 | Quilava | No |
| | #231 | Teddiursa | No |
| | #289 | Flygon | No |
| | #292 | Groudon | No |
| | #295 | Marshtomp | No |
| | #373 | Shelgon | No |
| | #374 | Aggron | No |
| | #400 | Electivire | No |
| | #459 | Staraptor | No |
| | #485 | Frost Rotom | No |
| | #485 | Wash Rotom | No |
Pokémon Kids DP National Pokédex 3
Edit
| Icon | # | Name | Clear |
| --- | --- | --- | --- |
| | #008 | Mew | No |
| | #010 | Blastoise | No |
| | #027 | Vaporeon | No |
| | #169 | Scizor | No |
| | #230 | Tyranitar | No |
| | #233 | Bayleef | No |
| | #245 | Togepi | No |
| | #291 | Absol | No |
| | #307 | Combusken | No |
| | #337 | Rayquaza | No |
| | #406 | Happiny | No |
| | #455 | Mesprit | No |
| | #485 | Fan Rotom | No |
| | #485 | Heat Rotom | No |
| | #485 | Mow Rotom | No |
Pokémon Kids DP National Pokédex 4
Edit
| Icon | # | Name | Clear |
| --- | --- | --- | --- |
| | #021 | Wartortle | No |
| | #045 | Gengar | No |
| | #076 | Jolteon | No |
| | #097 | Zapdos | No |
| | #136 | Scyther | No |
| | #161 | Heracross | No |
| | #194 | Houndoom | No |
| | #205 | Ampharos | No |
| | #262 | Beautifly | No |
| | #267 | Sharpedo | No |
| | #286 | Skitty | No |
| | #455 | Cresselia | No |
| | #320 | Kyogre | No |
| | #493 | Arceus | No |
Pokémon Kids DP Johto Region
Edit
| Icon | # | Name | Clear |
| --- | --- | --- | --- |
| | #020 | Nidoking | No |
| | #040 | Vulpix | No |
| | #114 | Pinsir | No |
| | #157 | Slowking | No |
| | #158 | Cyndaquil | No |
| | #159 | Totodile | No |
| | #160 | Chikorita | No |
| | #178 | Hitmontop | No |
| | #181 | Steelix | No |
| | #207 | Umbreon | No |
| | #213 | Skarmory | No |
| | #215 | Suicune | No |
| | #238 | Lugia | No |
| | #241 | Phanpy | No |
| | #249 | Ho-Oh | No |
Pokémon Kids DP National Pokédex 5
Edit
| Icon | # | Name | Clear |
| --- | --- | --- | --- |
| | #001 | Squirtle | No |
| | #013 | Kangaskhan | No |
| | #034 | Growlithe | No |
| | #037 | Charmeleon | No |
| | #078 | Dragonair | No |
| | #123 | Moltres | No |
| | #217 | Houndour | No |
| | #334 | Registeel | No |
| | #335 | Deoxys | No |
| | #336 | Metagross | No |
| | #355 | Hariyama | No |
| | #356 | Manectric | No |
| | #361 | Bagon | No |
| | #387 | Metang | No |
| | #462 | Togekiss | No |
Pokémon Kids DP National Pokédex 6
Edit
| Icon | # | Name | Clear |
| --- | --- | --- | --- |
| | #107 | Articuno | No |
| | #140 | Fearow | No |
| | #150 | Kabutops | No |
| | #255 | Volbeat | No |
| | #268 | Relicanth | No |
| | #306 | Walrein | No |
| | #321 | Sceptile | No |
| | #331 | Castform | No |
| | #346 | Camerupt | No |
| | #362 | Regirock | No |
| | #385 | Luvdisc | No |
| | #386 | Armaldo | No |
| | #402 | Bidoof | No |
| | #457 | Stunky | No |
| | #469 | Abomasnow | No |
| | #480 | Garchomp | No |
| | #482 | Lumineon | No |
| | #483 | Leafeon | No |
Pokémon Kids DP Johto Region 2
Edit
| Icon | # | Name | Clear |
| --- | --- | --- | --- |
| | #137 | Aerodactyl | No |
| | #143 | Machamp | No |
| | #171 | Blissey | No |
| | #174 | Sudowoodo | No |
| | #176 | Espeon | No |
| | #180 | Donphan | No |
| | #189 | Entei | No |
| | #191 | Sneasel | No |
| | #198 | Ursaring | No |
| | #199 | Feraligatr | No |
| | #211 | Raikou | No |
| | #221 | Meganium | No |
| | #225 | Kingdra | No |
| | #229 | Typhlosion | No |
| | #246 | Tyrogue | No |
| | #251 | Mantine | No |
Pokémon Kids DP National Pokédex 7
Edit
| Icon | # | Name | Clear |
| --- | --- | --- | --- |
| | #036 | Ivysaur | No |
| | #043 | Machop | No |
| | #124 | Hitmonlee | No |
| | #210 | Yanma | No |
| | #261 | Latias | No |
| | #294 | Latios | No |
| | #305 | Crawdaunt | No |
| | #330 | Milotic | No |
| | #339 | Swampert | No |
| | #342 | Gardevoir | No |
| | #368 | Sealeo | No |
| | #369 | Salamence | No |
| | #408 | Drifloon | No |
| | #419 | Shieldon | No |
| | #439 | Manaphy | No |
| | #487 | Magnezone | No |
Pokémon Kids DP National Pokédex 8
Edit
| Icon | # | Name | Clear |
| --- | --- | --- | --- |
| | #003 | Bulbasaur | No |
| | #033 | Rhyhorn | No |
| | #130 | Magneton | No |
| | #368 | Sealeo | No |
| | #212 | Croconaw | No |
| | #273 | Blaziken | No |
| | #301 | Plusle | No |
| | #302 | Minun | No |
| | #315 | Altaria | No |
| | #440 | Giratina (Origin Forme) | No |
| | #441 | Empoleon | No |
| | #473 | Skuntank | No |
| | #494 | Zorua | No |
| | #495 | Zoroark | No |
Pokémon Kids DP Ruler of Illusion
Edit
| Icon | # | Name | Clear |
| --- | --- | --- | --- |
| | #169 | Scizor | No |
| | #242 | Celebi | No |
| | #296 | Mightyena | No |
| | #353 | Ninjask | No |
| | #382 | Shuppet | No |
| | #420 | Mismagius | No |
| | #452 | Bronzor | No |
| | #467 | Tangrowth | No |
| | #494 | Zorua | No |
| | #495 | Zoroark | No |
Pokémon Kids Best Wishes: Ash Setting Off
Edit
| Icon | # | Name | Clear |
| --- | --- | --- | --- |
| | #496 | Zekrom | No |
| | #497 | Reshiram | No |
| | #498 | Tepig | No |
| | #499 | Oshawott | No |
| | #500 | Snivy | No |
| | #501 | Axew | No |
| | #502 | Pansage | No |
Pokémon Kids Best Wishes: Reshiram Zekrom Set
Edit
| Icon | # | Name | Clear |
| --- | --- | --- | --- |
| | #496 | Zekrom | No |
| | #497 | Reshiram | No |
| | #498 | Tepig | No |
| | #499 | Oshawott | No |
| | #500 | Snivy | No |
| | #501 | Axew | No |
| | #502 | Pansage | No |
| | #503 | Pidove | No |
| | #504 | Darumaka | No |
| | #505 | Munna | No |
| | #506 | Yamask | No |
| | #507 | Sandile | No |
| | #508 | Woobat | No |
| | #509 | Drilbur | No |
Pokémon Kids Best Wishes: Pignite Set
Edit
| Icon | # | Name | Clear |
| --- | --- | --- | --- |
| | #510 | Pignite | No |
| | #511 | Patrat | No |
| | #512 | Audino | No |
| | #513 | Reuniclus | No |
| | #514 | Cofagrigus | No |
| | #515 | Galvantula | No |
| | #516 | Sewaddle | No |
| | #517 | Alomomola | No |
| | #518 | Darmanitan | No |
| | #519 | Watchog | No |
| | #520 | Swanna | No |
| | #521 | Minccino | No |
| | #522 | Deerling (Spring) | No |
| | #523 | Musharna | No |
Pokémon Kids Best Wishes: Servine Set
Edit
| Icon | # | Name | Clear |
| --- | --- | --- | --- |
| | #525 | Servine | No |
| | #526 | Pansear | No |
| | #527 | Panpour | No |
| | #528 | Tranquill | No |
| | #529 | Klink | No |
| | #530 | Sawsbuck (Spring) | No |
| | #531 | Scolipede | No |
| | #532 | Foongus | No |
| | #533 | Dwebble | No |
| | #534 | Scraggy | No |
| | #535 | Trubbish | No |
| | #536 | Swadloon | No |
| | #537 | Litwick | No |
| | #538 | Frillish (Male) | No |
| | #539 | Emolga | No |
Pokémon Kids Best Wishes: Dewott Set
Edit
| Icon | # | Name | Clear |
| --- | --- | --- | --- |
| | #540 | Victini | No |
| | #541 | Dewott | No |
| | #542 | Klang | No |
| | #543 | Klinklang | No |
| | #544 | Beartic | No |
| | #545 | Swoobat | No |
| | #546 | Stoutland | No |
| | #547 | Roggenrola | No |
| | #548 | Solosis | No |
| | #549 | Cottonee | No |
| | #550 | Lampent | No |
| | #551 | Krokorok | No |
| | #552 | Joltik | No |
| | #553 | Venipede | No |
| | #554 | Garbodor | No |
Pokémon Kids Best Wishes: Samurott Set
Edit
| Icon | # | Name | Clear |
| --- | --- | --- | --- |
| | #555 | Samurott | No |
| | #556 | Lillipup | No |
| | #557 | Palpitoad | No |
| | #558 | Bouffalant | No |
| | #559 | Blitzle | No |
| | #560 | Zebstrika | No |
| | #561 | Druddigon | No |
| | #562 | Gothita | No |
| | #563 | Golett | No |
| | #564 | Golurk | No |
| | #565 | Mandibuzz | No |
| | #566 | Archen | No |
| | #567 | Archeops | No |
| | #568 | Stunfisk | No |
Attack Kid Set List
Edit
Attack Pokémon Kids 1
Edit
| Icon | # | Name | Attack | Clear |
| --- | --- | --- | --- | --- |
| | #258 | Wailmer | Water Spout | Yes |
| | #261 | Latias | Wish | Yes |
| | #266 | Cacnea | Needle Arm | Yes |
| | #269 | Zigzagoon | Tail Whip | Yes |
| | #275 | Seviper | Poison Tail | Yes |
| | #276 | Corphish | Guillotine | Yes |
| | #278 | Poochyena | Swagger | Yes |
| | #281 | Grovyle | Leaf Blade | Yes |
| | #286 | Skitty | Assist | Yes |
| | #291 | Absol | Quick Attack | Yes |
| | #294 | Latios | Dragon Claw | Yes |
| | #295 | Marshtomp | Tackle | Yes |
| | #307 | Combusken | Sky Uppercut | Yes |
| | #390 | Bonsly | Fake Tears | Yes |
| | #391 | Mime Jr. | Teeter Dance | Yes |
Attack Pokémon Kids 2
Edit
| Icon | # | Name | Attack | Clear |
| --- | --- | --- | --- | --- |
| | #008 | Mew | Metronome | Yes |
| | #031 | Eevee | Charm | Yes |
| | #082 | Meowth | Fury Swipes | Yes |
| | #180 | Donphan | Horn Attack | Yes |
| | #203 | Wobbuffet | Counter | Yes |
| | #270 | Taillow | Wing Attack | Yes |
| | #289 | Flygon | Steel Wing | Yes |
| | #292 | Groudon | Fissure | Yes |
| | #300 | Medicham | Fire Punch | Yes |
| | #301 | Plusle | Helping Hand | Yes |
| | #302 | Minun | Helping Hand | Yes |
| | #311 | Makuhita | Arm Thrust | Yes |
| | #315 | Altaria | Sing | Yes |
| | #388 | Lucario | Aura Sphere | Yes |
| | #389 | Weavile | Metal Claw | Yes |
Attack Pokémon Kids 3
Edit
| Icon | # | Name | Attack | Clear |
| --- | --- | --- | --- | --- |
| | #016 | Poliwhirl | Belly Drum | Yes |
| | #017 | Clefairy | Follow Me | Yes |
| | #019 | Sandshrew | Defense Curl | Yes |
| | #021 | Wartortle | Skull Bash | Yes |
| | #023 | Weepinbell | Sweet Scent | Yes |
| | #027 | Vaporeon | Water Pulse | Yes |
| | #028 | Raticate | Super Fang | Yes |
| | #036 | Ivysaur | Vine Whip | Yes |
| | #037 | Charmeleon | Slash | Yes |
| | #050 | Flareon | Overheat | Yes |
| | #076 | Jolteon | Thunder Wave | Yes |
| | #112 | Magikarp | Splash | Yes |
| | #113 | Pidgeot | Gust | Yes |
| | #143 | Machamp | Cross Chop | Yes |
| | #335 | Deoxys | Psycho Boost | Yes |
| | #337 | Rayquaza | Hyper Beam | Yes |
| | #338 | Munchlax | Rest | Yes |
Attack Pokémon Kids 4
Edit
| Icon | # | Name | Attack | Clear |
| --- | --- | --- | --- | --- |
| | #251 | Mantine | Surf | Yes |
| | #262 | Beautifly | Silver Wind | Yes |
| | #273 | Blaziken | Blaze Kick | Yes |
| | #277 | Pelipper | Stockpile | Yes |
| | #280 | Vigoroth | Scratch | Yes |
| | #283 | Kirlia | Calm Mind | Yes |
| | #299 | Mawile | Faint Attack | Yes |
| | #303 | Gulpin | Swallow | Yes |
| | #305 | Crawdaunt | Crabhammer | Yes |
| | #313 | Aron | Harden | Yes |
| | #318 | Tropius | Synthesis | Yes |
| | #321 | Sceptile | Fury Cutter | Yes |
| | #324 | Delcatty | Attract | Yes |
| | #339 | Swampert | Muddy Water | Yes |
| | #341 | Swellow | Aerial Ace | Yes |
| | #392 | Manaphy | Heart Swap | Yes |
Attack Pokémon Kids 5
Edit
| Icon | # | Name | Attack | Clear |
| --- | --- | --- | --- | --- |
| | #002 | Charizard | Flamethrower | Yes |
| | #009 | Venusaur | Solarbeam | Yes |
| | #010 | Blastoise | Hydro Pump | Yes |
| | #020 | Nidoking | Megahorn | Yes |
| | #043 | Machop | Focus Punch | Yes |
| | #136 | Scyther | Cut | Yes |
| | #177 | Aipom | Taunt | Yes |
| | #213 | Skarmory | Air Cutter | Yes |
| | #229 | Typhlosion | Slash | Yes |
| | #259 | Azurill | Slam | Yes |
| | #267 | Sharpedo | Bite | Yes |
| | #293 | Jirachi | Wish | Yes |
| | #323 | Slakoth | Yawn | Yes |
| | #393 | Mantyke | Water Sport | Yes |
| | #394 | Buizel | Agility | Yes |
| | #395 | Chatot | Uproar | Yes |
Attack Pokémon Kids 6
Edit
| Icon | # | Name | Attack | Clear |
| --- | --- | --- | --- | --- |
| | #045 | Gengar | Shadow Ball | Yes |
| | #049 | Ditto | Transform | Yes |
| | #073 | Onix | Sand Tomb | Yes |
| | #090 | Rapidash | Bounce | Yes |
| | #098 | Graveler | Rock Blast | Yes |
| | #118 | Machoke | Karate Chop | Yes |
| | #182 | Pichu | Charm | Yes |
| | #202 | Crobat | Steel Wing | Yes |
| | #209 | Misdreavus | Perish Song | Yes |
| | #235 | Azumarill | Double Edge | Yes |
| | #247 | Cleffa | Sweet Kiss | Yes |
| | #320 | Kyogre | Dive | Yes |
| | #345 | Meditite | Meditate | Yes |
| | #388 | Lucario | Close Combat | Yes |
| | #389 | Weavile | Nasty Plot | Yes |
| | #391 | Mime Jr. | Copycat | Yes |
Attack Pokémon Kids 7
Edit
| Icon | # | Name | Attack | Clear |
| --- | --- | --- | --- | --- |
| | #055 | Clefable | Metronome | Yes |
| | #070 | Snorlax | Block | Yes |
| | #145 | Ponyta | Take Down | Yes |
| | #171 | Blissey | Egg Bomb | Yes |
| | #181 | Steelix | Iron Tail | Yes |
| | #199 | Feraligatr | Ice Fang | Yes |
| | #221 | Meganium | Aromatherapy | Yes |
| | #230 | Tyranitar | Thrash | Yes |
| | #238 | Lugia | Aeroblast | Yes |
| | #249 | Ho-Oh | Sky Attack | Yes |
| | #334 | Registeel | Iron Head | Yes |
| | #350 | Regice | Lock-On | Yes |
| | #362 | Regirock | Rock Throw | Yes |
Attack Pokémon Kids 8
Edit
| Icon | # | Name | Attack | Clear |
| --- | --- | --- | --- | --- |
| | #006 | Pikachu | Volt Tackle | Yes |
| | #084 | Electrode | Explosion | Yes |
| | #097 | Zapdos | Drill Peck | Yes |
| | #107 | Articuno | Ice Beam | Yes |
| | #110 | Starmie | Rapid Spin | Yes |
| | #123 | Moltres | Flamethrower | Yes |
| | #167 | Gligar | Guillotine | Yes |
| | #168 | Smeargle | Sketch | Yes |
| | #176 | Espeon | Future Sight | Yes |
| | #207 | Umbreon | Mean Look | Yes |
| | #285 | Slaking | Yawn | Yes |
| | #340 | Ludicolo | Astonish | Yes |
| | #343 | Breloom | Sky Uppercut | Yes |
| | #369 | Salamence | Dragon Claw | Yes |
Attack Pokémon Kids DP
Edit
| Icon | # | Name | Attack | Clear |
| --- | --- | --- | --- | --- |
| | #012 | Raichu | Thunderbolt | No |
| | #018 | Mewtwo | Psychic | No |
| | #288 | Wailord | Dive | No |
| | #397 | Piplup | Bubblebeam | No |
| | #404 | Starly | Growl | No |
| | #413 | Riolu | Force Palm | No |
| | #414 | Drapion | Crunch | No |
| | #417 | Croagunk | Poison Jab | No |
| | #425 | Chingling | Uproar | No |
| | #426 | Grotle | Leaf Storm | No |
| | #427 | Ambipom | Double Hit | No |
| | #441 | Empoleon | Aqua Jet | No |
| | #444 | Rhyperior | Hammer Arm | No |
| | #453 | Vespiquen | Attack Order | No |
| | #492 | Shaymin (Land Forme) | Seed Flare | No |
Attack Pokémon Kids DP 2
Edit
| Icon | # | Name | Attack | Clear |
| --- | --- | --- | --- | --- |
| | #048 | Lapras | Perish Song | No |
| | #401 | Roserade | Swords Dance | No |
| | #407 | Buneary | Healing Wish | No |
| | #411 | Prinplup | Metal Claw | No |
| | #442 | Spiritomb | Nasty Plot | No |
| | #422 | Luxio | Thunder Fang | No |
| | #430 | Azelf | Confusion | No |
| | #432 | Staravia | Brave Bird | No |
| | #433 | Combee | Gust | No |
| | #438 | Cranidos | Zen Headbutt | No |
| | #443 | Infernape | Flare Blitz | No |
| | #445 | Magmortar | Flamethrower | No |
| | #458 | Gallade | Cut | No |
| | #492 | Shaymin (Sky Forme) | Air Slash | No |
Attack Pokémon Kids DP 3
Edit
| Icon | # | Name | Attack | Clear |
| --- | --- | --- | --- | --- |
| | #032 | Nidoqueen | Superpower | No |
| | #121 | Arcanine | ExtremeSpeed | No |
| | #151 | Gyarados | Dragon Rage | No |
| | #182 | Gizamimi Pichu | Sweet Kiss | No |
| | #354 | Exploud | Supersonic | No |
| | #399 | Cherrim | Lucky Chant | No |
| | #412 | Monferno | Mach Punch | No |
| | #420 | Mismagius | Growl | No |
| | #460 | Heatran | Magma Storm | No |
| | #465 | Uxie | Extrasensory | No |
| | #467 | Tangrowth | Power Whip | No |
| | #471 | Glaceon | Blizzard | No |
| | #475 | Gabite | Slash | No |
| | #479 | Gliscor | Night Slash | No |
| | #489 | Mamoswine | Ice Fang | No |
Attack Pokémon Kids DP 4
Edit
| Icon | # | Name | Attack | Clear |
| --- | --- | --- | --- | --- |
| | #049 | Ditto | Transform | No |
| | #252 | Torchic | Ember | No |
| | #253 | Mudkip | Mud-Slap | No |
| | #254 | Treecko | Quick Attack | No |
| | #293 | Jirachi | Rest | No |
| | #310 | Shiftry | Leaf Storm | No |
| | #329 | Whiscash | Earthquake | No |
| | #367 | Cacturne | Needle Arm | No |
| | #394 | Buizel | Water Sport | No |
| | #434 | Drifblim | Explosion | No |
| | #446 | Lopunny | Dizzy Punch | No |
| | #447 | Rampardos | Endeavor | No |
| | #461 | Bastiodon | Take Down | No |
| | #468 | Gible | Tackle | No |
| | #493 | Arceus | ExtremeSpeed | No |
Attack Pokémon Kids DP 5
Edit
| Icon | # | Name | Attack | Clear |
| --- | --- | --- | --- | --- |
| | #004 | Charmander | Smokescreen | No |
| | #067 | Jynx | Lovely Kiss | No |
| | #096 | Poliwrath | DynamicPunch | No |
| | #185 | Miltank | Milk Drink | No |
| | #216 | Delibird | Present | No |
| | #318 | Tropius | Stomp | No |
| | #347 | Zangoose | Crush Claw | No |
| | #350 | Regice | Ice Beam | No |
| | #398 | Chimchar | Fire Spin | No |
| | #428 | Shinx | Spark | No |
| | #431 | Honchkrow | Swagger | No |
| | #437 | Toxicroak | Sludge Bomb | No |
| | #466 | Snover | Wood Hammer | No |
| | #472 | Yanmega | U-Turn | No |
| | #485 | Rotom | Discharge | No |
| | #486 | Hippowdon | Sand Tomb | No |
| | #490 | Regigigas | Hyper Beam | No |
| | #491 | Dusknoir | Will-O-Wisp | No |
Attack Pokémon Kids DP 6
Edit
| Icon | # | Name | Attack | Clear |
| --- | --- | --- | --- | --- |
| | #002 | Charizard | Heat Wave | No |
| | #008 | Mew | Amnesia | No |
| | #060 | Seel | Aqua Ring | No |
| | #113 | Pidgeot | Air Slash | No |
| | #116 | Dewgong | Dive | No |
| | #202 | Crobat | Supersonic | No |
| | #233 | Bayleef | Body Slam | No |
| | #258 | Wailmer | Whirlpool | No |
| | #281 | Grovyle | Fury Cutter | No |
| | #285 | Slaking | Fling | No |
| | #320 | Kyogre | Aqua Tail | No |
| | #400 | Electivire | Giga Impact | No |
| | #405 | Dialga | Roar of Time | No |
| | #411 | Prinplup | Fury Attack | No |
| | #471 | Glaceon | Bite | No |
Attack Pokémon Kids BW 1
Edit
| Icon | # | Name | Attack | Clear |
| --- | --- | --- | --- | --- |
| | #497 | Reshiram | Fusion Flare | No |
| | #498 | Tepig | Flame Charge | No |
| | #502 | Pansage | Grass Knot | No |
| | #504 | Darumaka | Rollout | No |
| | #509 | Drilbur | Dig | No |
| | #511 | Patrat | After You | No |
| | #512 | Audino | Heal Pulse | No |
| | #514 | Cofagrigus | Haze | No |
| | #515 | Galvantula | Electroweb | No |
| | #521 | Minccino | Tail Slap | No |
| | #522 | Deerling (Summer) | Sand-Attack | No |
| | #527 | Panpour | Water Gun | No |
| | #530 | Sawsbuck (Spring) | Horn Leech | No |
| | #534 | Scraggy | Brick Break | No |
| | #537 | Litwick | Astonish | No |
Special Sets List
Edit
Shiny Kid List
Edit
2003 Release
Edit
| Icon | # | Name |
| --- | --- | --- |
| | #252 | Torchic |
| | #253 | Mudkip |
| | #254 | Treecko |
| | #261 | Latias |
| | #294 | Latios |
| | #262 | Beautifly |
| | #273 | Blaziken |
| | #274 | Lotad |
| | #276 | Corphish |
| | #288 | Wailord |
2004 Release
Edit
| Icon | # | Name |
| --- | --- | --- |
| | #266 | Cacnea |
| | #270 | Taillow |
| | #281 | Grovyle |
| | #289 | Flygon |
| | #295 | Marshtomp |
| | #275 | Seviper |
| | #286 | Skitty |
| | #291 | Absol |
| | #307 | Combusken |
| | #309 | Dustox |
| | #301 | Plusle |
| | #302 | Minun |
| | #321 | Sceptile |
| | #325 | Roselia |
| | #339 | Swampert |
2005 Release
Edit
| Icon | # | Name |
| --- | --- | --- |
| | #151 | Gyarados |
| | #253 | Mudkip |
| | #252 | Torchic |
| | #254 | Treecko |
| | #341 | Swellow |
| | #003 | Bulbasaur |
| | #036 | Ivysaur |
| | #009 | Venusaur |
| | #371 | Snorunt |
| | #320 | Kyogre |
| | #001 | Squirtle |
| | #021 | Wartortle |
| | #010 | Blastoise |
| | #292 | Groudon |
| | #332 | Chimecho |
| | #004 | Charmander |
| | #037 | Charmeleon |
| | #002 | Charizard |
| | #337 | Rayquaza |
| | #369 | Salamence |
2008 Release
Edit
Icon
#
Name
#396
Turtwig
#397
Piplup
#398
Chimchar
#400
Electivire
#415
Pachirisu