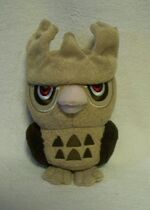 Noctowl is a Pokedoll, which was first released in 2002 in Japan. It features the "old" velboa fabric and embroidered eyes, and is top heavy like most of the plush released at this time.
This plush has been released in both America and in Japan, but has not been re-released since 2004.
The triangles on Noctowl's chest are upside-down on the newer, improved pattern. (American)
Inside Japanese releases' crests, there is a thin supporting foam to help keep the shape, and the triangles are correct.