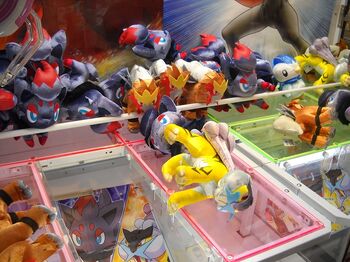 UFO Catcher (UFOキャッチャー) is a generalized trademark adopted by buyers, collectors and sellers and used to describe any licensed character plush won in claw crane game machines. The original term is adopted from SEGA's trademark UFO Catchergame machines and derived from the UFO-looking claws used in those machines to catch plush and other prizes (such as figures). The term is applied to any prize won out of this type of machine regardless of its brand - Bandai, Banpresto, SEGA and Taito are very popular licensors. Banpresto is the most popular for Pokémon prize plush.
Information
UFO Catchers are often found in bowling allies, arcades, and similar institutions. They are controlled by the player with a joystick (occasionally there will be two joysticks), and a button to drop the claw. Usually UFO Catcher machines are stocked with plush toys, but they may also be filled with candy, jewelry, or other toys.
There are many Pokémon of every generation with UFO plush. Some are very sought after, due to age and their inability to be bought. Depending on the company and style, the fabric and size vary on these plush, but almost all of them have a white string somewhere on their head or back. Older series will often have a yellow string instead. There are also other Pokémon items in UFO Catcher machines, varying from figures and keychains to even plates and dishes.
It should be noted that Pokémon plush released by Banpresto conform to Japan Toy Association's Safe Toy Mark standard,which indicates that they have been tested at one of seven testing facilities to ensure they are safe to play with. On the swing tags of Pokémon plush by Banpresto, you will almost always find the Safe Toy Mark.
Trivia
In Japan, there are sometimes live tortoises offered as UFO prizes, and in China they have crayfish as prizes.
"UFO Catcher" is actually a trademarked name by Sega.
They are called UFO catchers due to the UFO-like structure of the claw of the machine.
Resources
Trending pages
All items (3)